About Us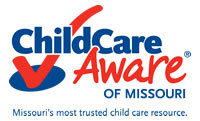 Child Care Aware® of Missouri began in 1999 as Missouri Child Care Resource and Referral Network to fill the role of Child Care Resource and Referral (CCR&R) State Network in the state. Child Care Aware® of Missouri coordinates and provides service directly and through a network of partners statewide. Services delivered include the child care referrals, family resources, technical assistance for child care programs, T.E.A.C.H. MISSOURI Scholarship, statewide clock hour training for child care staff, Taking Steps to Healthy Success, and ongoing professional development across the state.
We believe every child deserves a safe, quality early childhood education experience which is critical to maximize their future well-being.
Vision
Every young child receives safe, quality learning experiences.
Mission
To raise the quality of early child care educational experiences in Missouri by improving child care services - through training, quality standards, coaching, and infrastructure support.
Values
In our shared work, the Child Care Aware® of Missouri Board of Directors, employees, and our regional Network Member Agencies value:
Passion – dedication to the cause that sets our organization apart
Results Driven – measure our success by what is being accomplished; track our success by outcomes, not inputs or outputs
Thought Leadership – lead as informed opinion leaders and are trusted sources who move and inspire others
Community Partnerships – innovative and flexible ways to bring mutual benefits to both partners
Integrity – the quality of being honest and having strong moral principles and moral authority
Financial Stewardship – management of processes and internal health to enable those responsible for the organization's overall performance to execute our strategies
Excellence – we believe in what we are doing and that the value of what we do warrants the persistent commitment to its betterment